"It is 11.59pm on "AI Eve" and everything is about to explode around us" – Mark Holden, PHD Worldwide Strategy and Planning Director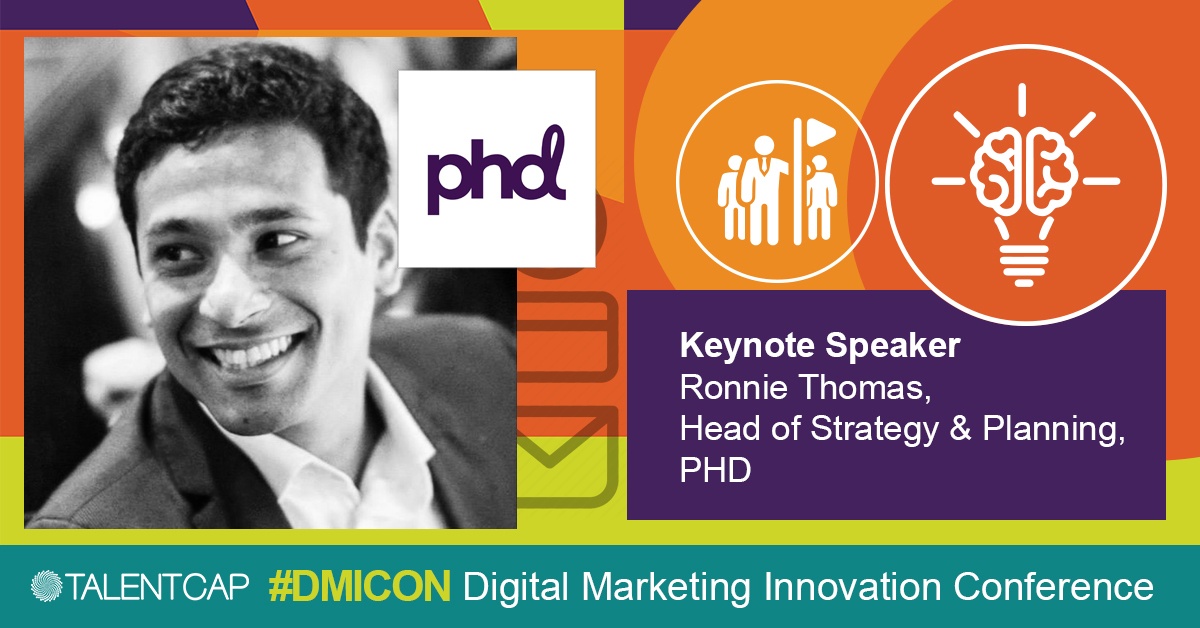 TalentCap is pleased to Welcome Ronnie Thomas on board the #DMICON! It's going to be exciting to hear you speak about "B2B Marketing: How To Create a Demand Centre by Looking Internally Rather Than Externally For New Sources of Growth."
Ronnie highlights, "Challenged with sluggish growth, rising alternatives, and shorter key decision maker lifespans in a category that tends to have long lead times, businesses have to find a better way to spark growth. This case illustrates how businesses are able to change strategy based on a simple insight and to start to look internally rather than externally for new sources of growth. In doing so, businesses can find a treasure trove of semi-forgotten, but incredibly valuable consumers that are able to spark growth and to herald a new approach to B2B marketing."
Ronnie is the Head of Strategy & Planning for PHD Singapore. His expertise lies in strategic communications planning, as well as the implementation of tech solutions that deliver purposeful innovation. He has worked on the biggest FMCG brands, as well as iconic brands in the tech and alcohol sectors, where he has delivered work that has won innovation and effectiveness awards at Cannes, AMES, WARC and the Festival of Media. A computer engineer by training, he is extremely excited at the merge of marketing and technology, and the many opportunities that this creates.
PHD is one of the most acclaimed media and communication agency networks with numerous recognition from around the world. Founded in the UK in the year 1990, PHD combines the latest industry insights with the best creative minds to deliver smart strategic thinking and creative innovation for some of the world's largest advertisers. With over 28 years of experience, PHD is a global network with 6,000 employees and 80 offices in multiple countries, and continue to lead the way in the evolution of communications planning around the world.
1. How is digital marketing impacting business growth?
As the consumer experience of the world has become more digital, brands have had to change the way they behave to be successful and drive growth.
Digital Marketing approaches and Digital Channels have been instrumental in driving this change through newer engaging channels, advanced segmentation opportunities, and the ability to forge long-term relationships around passion points.
Now, as we move into a reality where AI and robotics are becoming part of the everyday experience of the world, brands will need to keep evolving and Digital Marketing will continue to be one of the most important elements in driving growth.
2. What are your predictions on digital marketing trends in 2018?
2018 has already been a year of "resets" with big cultural issues coming out of the world of Digital Marketing. This shows us the force that Digital can be in the world, and it creates a need amongst marketers, agencies and technology companies to revisit how we use Digital, and how it can shape culture and also brands.
With that in mind, we believe that the following trends have the potential to shape the future of digital, with 2018 being a key year in each of their development
The disruption of e-commerce: E-commerce will continue to cause disruption in our region, with China playing an increasingly pivotal role. As consumers are bombarded with new shopping festivals, they will likely be encouraged to prioritise value and discount above brand value, creating new challenges for marketers.
The blockchain is coming: Blockchain will continue to grow in importance for advertisers due to the number of third-party trackers, viewability issues, malware, as well as bot and fraud concerns. Blockchain will allow marketers to perform extensive testing and learning.
VPAs and the rise of A-Commerce: Consumers will continue to embrace VPAs as we shift away from screens to a voice automated world, which will drive the need for personalisation ever forwards. At the same time, the introduction of 5G internet will allow for the expansion of other pervasive technologies, increasing the opportunities for automation and AI. This itself will drive A-Commerce: automated commerce, which allows consumers to embrace immersive experiences offered by voice technology, AR and AI.
Everything is programmatic: Our ability to use programmatic will expand beyond digital into other mediums, including TV, Audio and OOH.
3. Why setting up a data architecture that allows for regular audits of the data collected across campaigns is vital for businesses that want to spark growth?
This goes to the heart of the case we will present at the conference – As we move into a world where data is being produced every second, organizations need to ensure that they have a robust data architecture in place that allows for better insight mining, but also allows for strategies that are people based, and can potentially lead to reduced costs for prospecting or for converting consumers to buyers.
4. Why should businesses conduct regular audit of available data in internal systems?  
Organizations need to implement processes that clearly schedule periodic audits of all the data that exists in their systems, so that analysts and data scientists can identify potential revenue generators or cost savers.
5. How do PHD's products, services and solutions significantly increase marketing performance?
PHD's global planning and collaboration platform, SOURCE, combines playful gamification techniques with hard-core strategic principles to deliver innovation. It's not just a work tool, it's our business ecosystem.
SOURCE provides the ultimate competition of ideas on every client brief. It allows teams to share briefs across the whole network and incentivises individuals to provide great ideas. So our clients get access to 4000+ minds, not just a few.
Not only does SOURCE benefit from the collective intelligence of the PHD network, it offers an integrated platform that combines cutting-edge thinking from the world of marketing and social sciences, with advanced data and sophisticated optimisation tools and systems.
SOURCE has improved ROI for our clients' brands while providing an innovative and collaborative working environment – helping us to attract the industry's best talent.
6. How customers are achieving success with PHD?
Communications Planning is at the heart of what PHD offers, and in an increasingly complex marketing landscape, we believe that this will only continue to grow in importance. This allows us to deliver work that is innovative yet purposeful, creative yet anchored in science and data and is objective rather than being driven by subjectivity or a "that's how it's always been done" mindset.
"Marketing Partners or Innovators; it is difficult to pin-point PHD. The team never fails to keep the brand on its toes, with innovative, technology-first recommendations, whilst driving and delivering on our business goals." – Joey Yam, Audi
"Media today is at its most dynamic, spurred by technology. PHD has the foresight to stay ahead of the curve by retooling its talents with technological and analytical know how to continuously deliver data-driven strategies, ensuring brands like ourselves have the greatest return on investment." – Christine Chung, Unilever
7. How will PHD's keynote at this year's #DMICON assist marketers to be successful?
Our case study will inspire marketers to question "established" processes and models, to innovate with purpose, and to build a digital mindset rather than a digital team. These three points are crucial for marketers to be successful in a world where the next big change is just around the corner.
—————————————————————–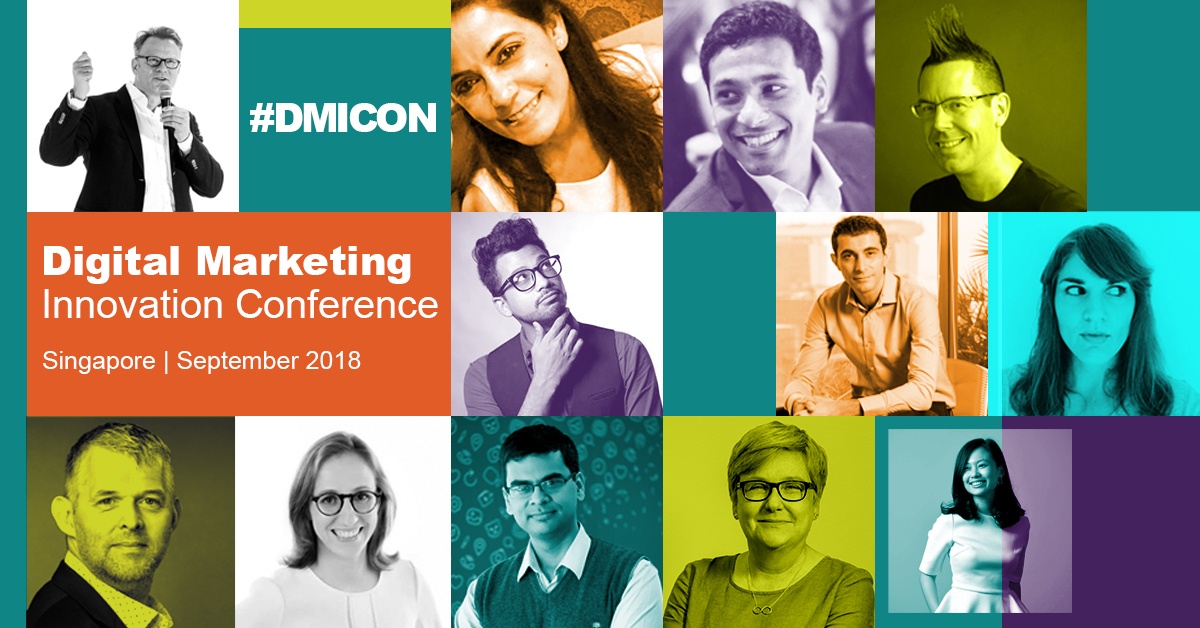 #DMICON Digital Marketing Innovation Conference Singapore, September 2018
The #DMICON is an exclusive gathering of ASEAN's biggest brands, industry change agents and influencers that look into different aspects of digital marketing from the future of data, artificial intelligence, to the basics of marketing focusing on leadership, strategy, tech and innovation.
Our annual event draws ~100 C-levels and key decision maker attendees from across industries such as technology, employment, property, FMCG, telecommunications, banks, e-commerce, automotive, advertising, media, radio, government agencies and more.
With plenty of cross industry learning and networking opportunities, the #DMICON is the perfect place to build a professional network, find business partners, and generate new growth ideas.
The #DMICON will help you address your digital marketing challenges and to identify growth opportunities to create the greatest positive impact on your marketing strategy.
For those who are interested for the #DMICON Singapore chapter, please refer to the below on event details:
Dates: 26-27 September 2018 (Wednesday & Thursday)
Time: 9am – 5pm
Venue: Singapore
Early bird tickets available here: https://talentcap.com/digital-marketing-2018-singapore/
About TalentCap: TalentCap produces quality information and events for the international conference industry. We recruit the best speakers, provide the best training and offer the best networking in the industry. We produce innovative, inspiring, and indispensable event solutions and services. We provide businesses with insights and contacts they need to grow. We curate content for specific industries and to facilitate dialogue and strategic thinking. We expose sponsors and partners to a highly engaged international audience. We aspire to Inspire and equip business leaders to achieve extraordinary results. For latest, please visit: www.talentcap.com