"Digital marketing has taught us a lesson businesses are slowly learning; it's not about who has the loudest message before an audience. It's about who says the right message differently to the right audience." – Ahmed El Sanhoury, Head of Social Media, Mindvalley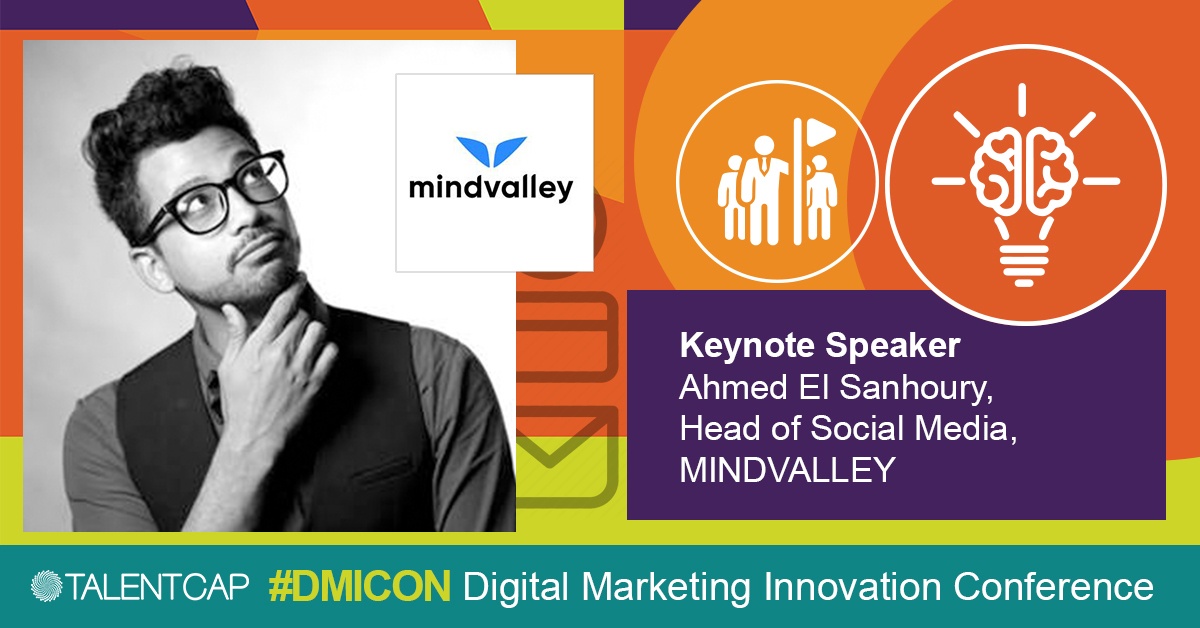 TalentCap is pleased to Welcome Ahmed El Sanhoury on board the #DMICON! It's going to be exciting to hear you speak about "Lead & Ecommerce Conversions: How social engagement and listening triggers conversions."
Ahmed highlights, "A user journey of discovery could start with a comment; don't let it end there. When was the last time your brand really spoke to your target audience? Building a scalable social engagement and listening strategy is a must for any brand that wants to play the social game right. When you combine it with your marketing automation and ad retargeting efforts, you will see a direct increase in your leads and ecommerce conversions."
Ahmed El Sanhoury is the Head of Social Media at Mindvalley, where he leads the company's vision of social media. In the previous years, he developed and executed key strategies around social media and brand content partnerships.
Now Mindvalley's platforms have an expanding reach of 4.5 million, providing highly engaging content across social platforms. Prior to Mindvalley he worked with marketing agencies developing digital solutions for countless brands around content and social media strategies, website optimization, advertising, and performance marketing.
Mindvalley is developing an online university for all ages focused on transformational education. In other words, everything that school forgot to teach us.
1. How is digital marketing impacting business growth?
Acquisition, analytics and automation. Positive Return-On-Sales (ROS) all the way.
Digital marketing enables us to go beyond what is possible with any other form of marketing, especially traditional. Never has it been easier for a business, startup or personal brand to create and distribute content, as well as add value to digital audiences across blogs, websites, and social media platforms.
The ability to see granular shifts in audience behavior – cold audiences especially, once a content piece, sales ad, or a digital message, is the biggest modern day teacher of consumer habits. The market is too fluid and fast paced.
Whether we're talking about a dive in GA to see a user's journey across your web pages, or product retargeting ads for uniquely interested niche leads, all the way to setting up parameters for cart abandonment for web store viewers, the impact is there. We no longer hope for the best; we build user experiences to guide people, more optimally, and increase the likelihood of their conversion with tried and tested user behavior tactics, based on what we learn from similar cohorts.
Our ability to measure what works, and double down on it to 10x profits based on ROS indicators for every marketing activity the business spends money on to gain profit; whether it's in hours worked by team members, spending on tools and services for content creation, analytics, hosting, as well as ad spend (which can even be set on autopilot – kinda!), all the way to proving the ROI of social media actions, and the validity of how split testing delivers more results than flying blind with one main creative visual piece.
It's a powerful time for all of us involved in the digital marketing world; we move people with our creative visions, effective strategies, and with the strength of the messages we craft and stand by.
2. What are your predictions on digital marketing trends in 2018?
IGTV: Instagram TV was created to keep the interest of teenagers, and had a rushed launch event backed by the biggest IG influencers. But here's the thing; the platform is lacking. No editing captions, limited reach as well. But YouTube has been the standard and still is for even the influencers IG recruited. I feel like they will borrow the Facebook video swipe down mechanic, and display ads between video 'skips'
Instagram: Amount of replies to stories could be huge; it's a vanity metric but it shows how engaged an audience really is. There may be some way of incorporating that as I'm sure it's something IG is looking into.
SEO: Increase in importance of SEO for web pages – it won't be enough to rank content on SERP using certain older methods. As Google moves towards an algorithmic approach with detecting brand/creator legitimacy levels for better suggestions, certain gray tactics with traffic building through organic search will start declining. Also means Google will suggest content that dives deep, and follows the SEO optimization checklist, on and off page, but with additional points going for how authoritative the content creator is.
Voice: The rise of the smart voice assistants may have slowed down, but their intelligence is only getting started. At Google I/O they showcased a google assistant AI talking to a real human and booking an appointment – part of a reminder set on a phone. It passed as human instantly.
The business implications are infinite.
Voice: Call up your voice assistant and ask to search for "Recipe for chicken noodle soup". It will give you either alltherecipes or martha stewart. Optimizing SEO by voice is not small matter. It's all going to be shaped by our behavior – organic behavior. Something that can be seen on a graph can be influenced.
3. What is social listening and why should business care about social listening?
Social Listening is deriving key insights from the social conversations happening around your brand, business, and content, and using it to improve the way you communicate with or sell to your audiences.
It helps you keep track of mentions outside your owned media, so that includes blog articles, PR mentions, and generally, gives you an understanding in social, and on the web, about the conversations that matter to you and your consumers, as well as how your competitors are faring.
4. What questions does social listening help businesses answer?
What is the general sentiment around a brand and its content (positive or negative)
What are the most common questions that audiences or prospects have about a product or a service
Brand mention volume online, and what causes spikes and dips
Which conversations a brand should participate in and add value to
How to identify opportunities online to engage with leads and drive a conversion
The die-hard fans of a brand, the influencers, and the audience friendly curated content
5. How can social listening significantly increase marketing performance?
Touchpoint to touchpoint conversion: Conversing with leads, providing timely resource or assists on social platforms increases trust and helps remove access to product/service.
Product Feedback and marketing message feedback: how well received a message is as well as the public comment testimonial provides key insights towards crafting a positive experience.
Showcasing the community love for the brand helps create similar behavior. User generated content (UGC) helps warm up the brand voice and increases conversions and content performance.
6. How are customers achieving success with Mindvalley?
Mindvalley is a global school of 3+ million people. We produce some of the world's top trainings for peak human performance, and we support communities and causes aligned with our vision for mankind.
Our approach to being customer centric as well our unique focus on education has helped us develop a powerful community around the world that consumes our free content, experiences our premium learning journeys, as well as join us for our year round events around the world.
Part of building a brand is building up the community with the proper 1:1 mindset.
7. How will Mindvalley's keynote at this year's #DMICON assist marketers to be successful? 
Social Listening and Engagement is the missing puzzle piece for a lot of successful, growth oriented social strategies out there. One thing to keep in mind, one may bring in tons of new followers, one may acquire a lot of cold audience leads with ads, but what about conversions?
Marketers will walk away knowing what social listening is, the business benefits, as well as how to set up a simple system and complement it with conversion-centric social engagement strategies.
Time to give brands the human voice.
—————————————————————–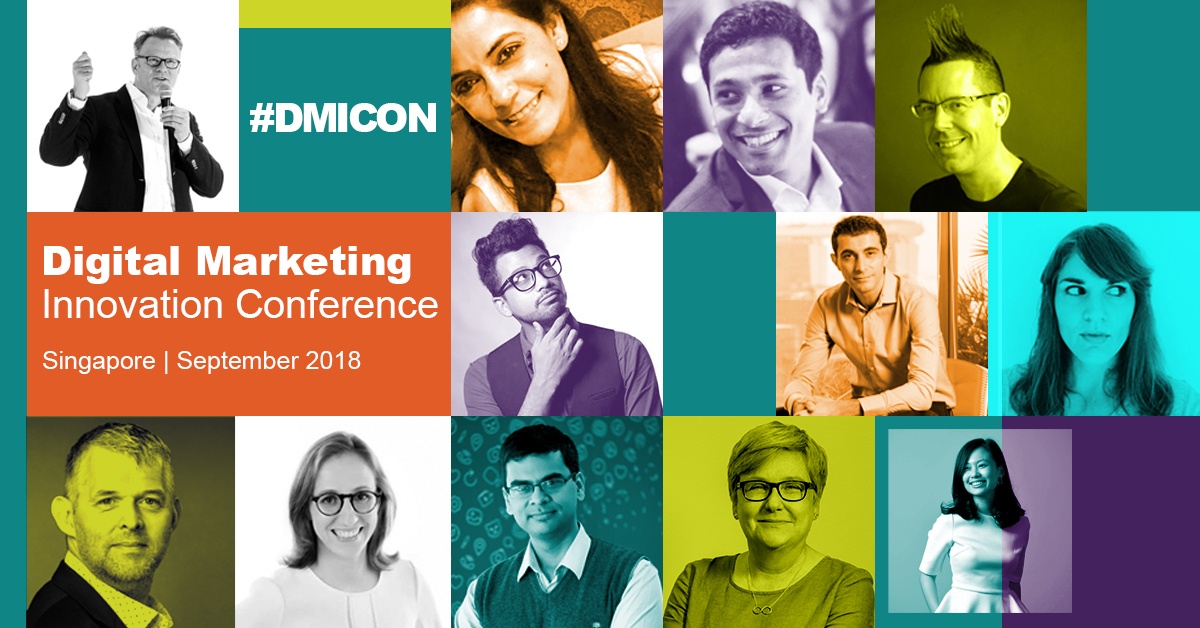 #DMICON Digital Marketing Innovation Conference Singapore, September 2018
The #DMICON is an exclusive gathering of ASEAN's biggest brands, industry change agents and influencers that look into different aspects of digital marketing from the future of data, artificial intelligence, to the basics of marketing focusing on leadership, strategy, tech and innovation.
Our annual event draws ~100 C-levels and key decision maker attendees from across industries such as technology, employment, property, FMCG, telecommunications, banks, e-commerce, automotive, advertising, media, radio, government agencies and more.
With plenty of cross industry learning and networking opportunities, the #DMICON is the perfect place to build a professional network, find business partners, and generate new growth ideas.
The #DMICON will help you address your digital marketing challenges and to identify growth opportunities to create the greatest positive impact on your marketing strategy.
For those who are interested for the #DMICON Singapore chapter, please refer to the below on event details:
Dates: 26-27 September 2018 (Wednesday & Thursday)
Time: 9am – 5pm
Venue: Singapore
Early bird tickets available here: https://talentcap.com/digital-marketing-2018-singapore/
About TalentCap: TalentCap produces quality information and events for the international conference industry. We recruit the best speakers, provide the best training and offer the best networking in the industry. We produce innovative, inspiring, and indispensable event solutions and services. We provide businesses with insights and contacts they need to grow. We curate content for specific industries and to facilitate dialogue and strategic thinking. We expose sponsors and partners to a highly engaged international audience. We aspire to Inspire and equip business leaders to achieve extraordinary results. For latest, please visit: www.talentcap.com