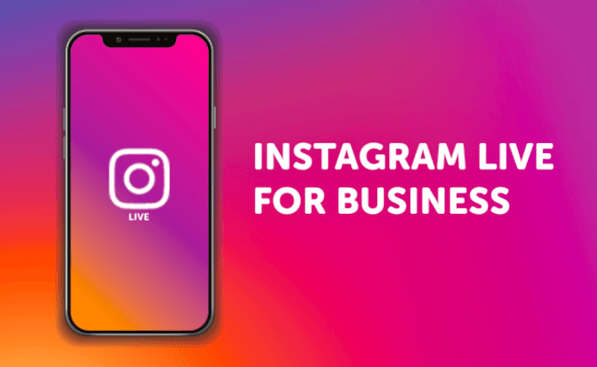 5 Ways to Utilize Instagram Live Videos for Your Business.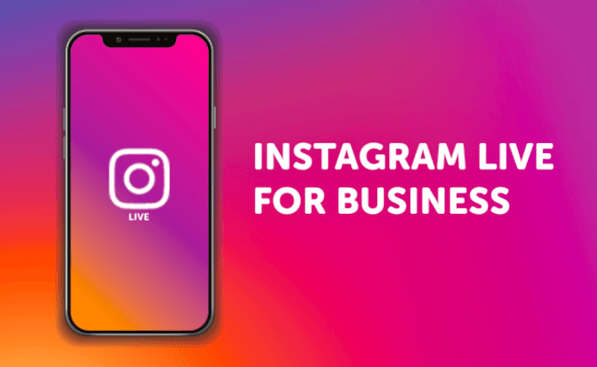 By now, everyone has preached to your company why social media marketing is an imperative strategy for growing your business. And it's true. But have you ever experimented with new things on social? 82% prefer live video over social posts. Ultimately, live video is more appealing than any other brand content. In the past couple of years, Instagram has hopped on the bandwagon with Instagram Live So, let's talk about what Instagram Live is and why your business should be using it as a part of your Instagram marketing strategy.
What Is Instagram Live?
Instagram Live is a real-time video broadcasting feature that was introduced to the platform in November 2016, only a few months after the successful launch of Instagram Stories. While it's been around for a while now, companies are just now beginning to really commit to integrating this interactive feature into their social media marketing strategy. And with 100 million Instagrammers watching or posting on Live every day, the time is now. Companies can effectively use Instagram Live to boost interaction with customers and connect with new, larger audiences. As long as you are staying relevant to your brand and industry, the sky's the limit. Now, let's discuss five easy ways to use Instagram Live to promote and grow your brand.
via GIPHY
1. Promote a Product Launch.
Use Instagram Live as a platform to promote a new product arrival to your company. While traditional social media promotion is important, getting behind a video camera and actually talking about your newest product in real-time will amp up interest and create a buzz about your product. If you have a huge product releasing and you've set a specific launch time, log on to your company's Instagram 15 minutes beforehand. Then, go "live" and hype those customers up! Talk about what makes your product great, how much it costs, where they can get it, and make sure to countdown to the launch – when it's officially released, encourage people to buy it!
2. Demonstrate a Product in Use.
People
love
how-to content. It's an easy way to show others exactly how your products work. These can be quick videos people can pop in on and watch, or it can be a piece of lengthier content in which you discuss the benefits of the product, different ways it can be used (if applicable), who can use it, etc. How you film a product demo is important: unlike traditional product demo videos, you don't have the luxury of cutting to different camera shots and cropping out unnecessary content. Instagram Live forces you to be a one-take wonder. Luckily, people don't expect you to be absolutely
perfect
– everyone makes mistakes – but make sure you
know
what you're talking about and you understand how to effectively demonstrate each step of the process to your audience.
3. Host a Q&A or Interview
Your audience can actively engage with live videos through real-time commenting. As long as you don't have this function turned off  – which you shouldn't – users can comment on their thoughts and opinions throughout the duration of your video. Comments will be visible to both you and any viewers currently watching your live video. They appear on the bottom right third of the screen, and as more and more filter in, they begin to "disappear;" don't worry, you can still scroll up and down to view them all. Hosting a Q&A on Instagram Live is an awesome opportunity to answer customer questions about your products, services, and company culture. It is rare that people
never
have a question about something, so being able to actively address it eliminates the need to look it up themselves. Instagram has even added a feature to make Q&As more face to face. With "Live Request," users can request to join a live video chat. Use this feature to enjoy face-to-face interaction with your viewers.
via GIPHY
4. Highlight Events Your Company Hosts or Attends.
Whether your business is attending an awesome conference, going on an exotic business trip, or hosting an event of your own, share it with your audience! It can be difficult to showcase a real experience if you're just posting a static photo on your feed, so branch out and go live to give your followers a true behind-the-scenes, raw experience. Let's say your company is hosting a session at your office where community members can come in, meet others, and learn more about your industry. Rather than limiting your lecture to the individuals in the room, extend your audience to social. Go live on Instagram to give distant users the opportunity to sit in on the lecture, learn some new things, and even ask their own questions. You should have a team member monitoring the live comments at all times, in case someone asks a valuable question you think should be answered.
5. Run a Flash Sale or Giveaway.
This fifth tip is more of an integrated approach that can be aligned with the four other Instagram Live tips we discussed above. Running giveaways or flash sales during your company's Instagram Live videos is one of the easiest ways to boost and encourage engagement and to push users to buy your products. With a flash sale, you'll want to create a discount code that users can use to buy your product. Select a short time frame during which the discount code is active; a time constraint puts pressure on the buyer, and if the deal is enticing enough, you'll see results in no time. A live giveaway, similar to a traditional Instagram contest or giveaway, should include rules and guidelines to encourage users to take a certain action. Clearly define the guidelines of your giveaway. Some examples you could include are:
The user has to tag three friends in the live comments.
The user has to comment on their answer to a question you pose.
The user has to comment with a particular emoji to enter (either one of their choosing or one you specify).
The user has to remain on the live video until the end of the video.
The winner has to be present on the live video when they are announced.
With the rules laid out, interested followers will actually stick around and engage if they want to win. Who
doesn't
want to win a free giveaway? Make sure the prize is worth the wait – if it isn't, you might drive followers away and hurt any good graces you earned with them.
If you want to know further on how to use Instagram Live for your marketing purposes, you should follow our
page.